The Liberland Metaverse, designed by studio Zaha Hadid Architects, will be the virtual extension of Liberland, a small unrecognized country between Croatia and Serbia. Here are the pictures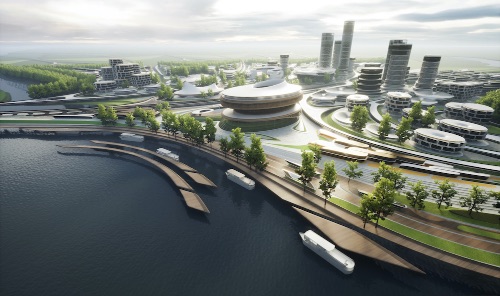 Zaha Hadid Architects (ZHA), the studio founded in 1979 by the architect who died in 2016, is immersed in a new challenge, a digital space: Liberland Metaverse. The latter is a virtual city, founded as an extension of a real free republic Liberland, a small but unrecognized libertarian state, was founded by Czech right-wing activist Vet Jedlička in 2015 on a swampy patch of land measuring just three square miles. This area, known as "Seja", is located halfway between Zagreb and Belgrade, and will also become virtual thanks to the cooperation between ZHA, mytaverse And the ArchAgenda aowhich they expect will contain hybrid and curvilinear architectural forms.
But how do you get to the virtual city? Through the cloud platform that creates 3D environments Mytaverse: Once on the platform, visitors can move between buildings designed by Zaha Hadid Architects, such as the Town Hall, Square and Exhibition Centre, buy plots of land and start businesses. If they do so, they will then be able to participate in the political and social life of the true microstate.
Liberland Metaverse as a digital expansion of the small Balkan country
ZHA architect in charge of the project, Patrick SchumacherHe explained that:While the Liberland Metaverse aims to lead the development of Liberland as a libertarian small-state, it will also function as an independent virtual reality domain in its own right.Part of Schumacher's appeal is that Liberland has already garnered a large following: Jedlička claims to have received 700,000 applications for citizenship. However, Liberland is not recognized by any other country: when it was founded, Serbia and Croatia made statements to the network. CNN rejects Jedlička's plans. According to Patrick Schumacher"Game developers are not designers. They do not belong to the design discipline but to the entertainment industry. The Metaverse is where a lot of architecture and innovation will happen in the coming periodHe also believes that immersive internet technology will encourage real-life spontaneity in social interactions, while also spurring global economic cooperation. We asked him a few questions.
What are the main aesthetic and functional lines of the Liberland Metaverse?
The two main aesthetic problems we attempt to solve through our urban and architectural designs for the Metaverse of Liberland can be stated as follows… in relation to the urban scale: maintaining a universal sense of unity and identity while accommodating the rich diversity of neighbourhoods, conforming institutions and architectures. Regarding architectural scale: maintaining clarity in the face of complexity. The task is to maintain binocular vision and cross-awareness in mixed-use scenarios, with very clear spatial arrangements. These results can be achieved through the use of spatial fluidity and porosity that offer deep, multi-layered perspectives.
Why do you say game designers don't have enough vision for the Metaverse when architects do?
Virtual spaces in the Metaverse, which we pursue with ZHA, are functionally continuous in relation to the physical spaces we design. Both are part of a single social interaction process. We're not interested in a "Metaverse" that offers an alternate fantasy world of social escapism. Game designers are comfortable in the last world. They pursue spectacle, entertainment, and storytelling. This is a diverse industry with different success criteria, and it requires different skills and sensibilities.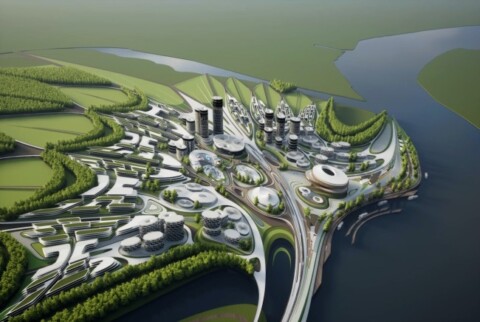 How do you and your team imagine the equation built by architects, better or worse than in the real world?
Metaverse is part of the real world. This is why we conceptually use the binomial virtual vs. physical and distinguish virtual reality from physical reality, both of which frame social reality. As architects, we strive to create a better world, both physical and virtual. Each kingdom has its own advantages. It makes no sense to ask for a better world. We cannot escape physical reality as long as we are physical. We will inevitably live in a mixed reality that merges and sometimes merges these two worlds.
Why do you believe in a platform based on cryptocurrency exchange?
Within the digital ecosystem, the legitimacy and transparency of the community of participants is enhanced. We believe that the open, decentralized, and community-owned business versions of the Metaverse — organized as transparent DAOs — will outpace centralized enterprise organizations.
– Georgia Basile